2022 – Reports| SDG 1 – No Poverty

As an academic institution, ISU profoundly understands the pivotal role of education in defining the lives of every determined individual as they make their ways in their respective communities. ISU believes in the promising opportunity of education in empowering people against their respective predicaments. Hence, investing in people and young minds produces rippling effects for community empowerment, thereby reducing intergenerational poverty incidences.
---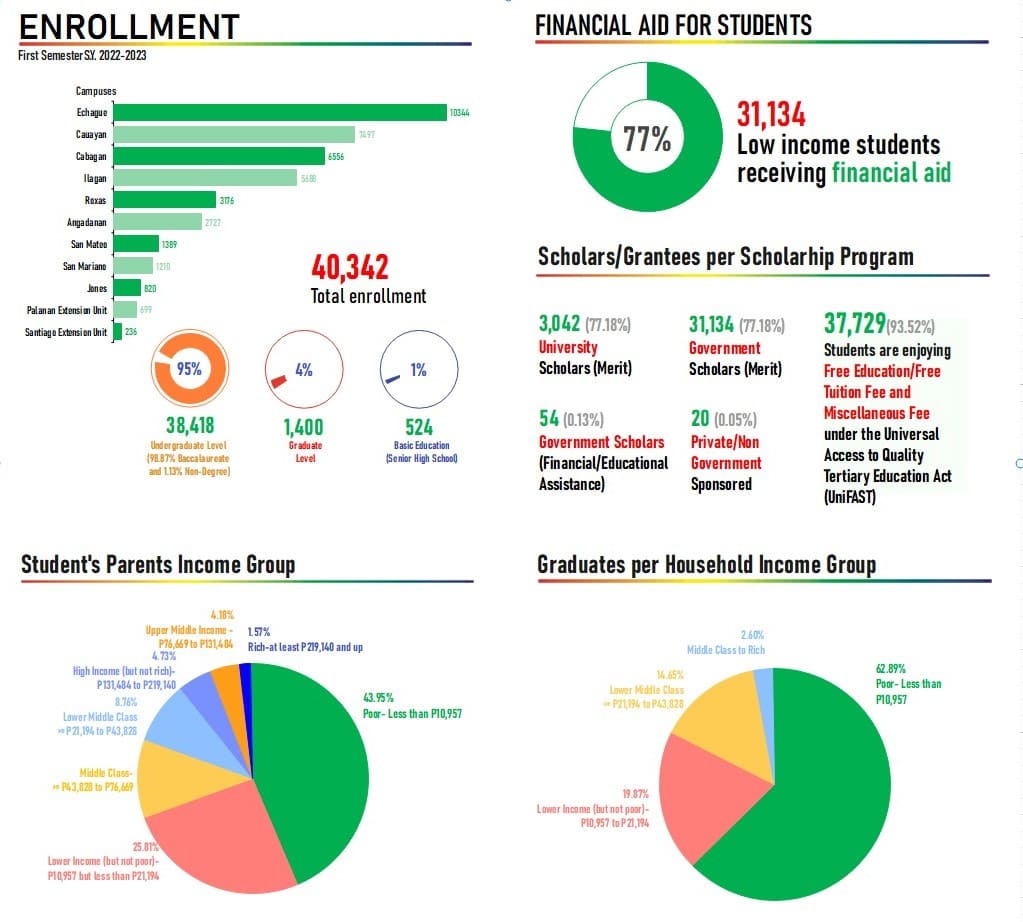 University Anti-Poverty Programs
Starting Academic Year 2018-2019, the Isabela State University is one of the implementers of 𝙁𝙍𝙀𝙀 𝙃𝙄𝙂𝙃𝙀𝙍 𝙀𝘿𝙐𝘾𝘼𝙏𝙄𝙊𝙉 𝙋𝙍𝙊𝙂𝙍𝘼𝙈 under the Republic Act 10931 or Universal Access to Quality Tertiary Education Act (UAQTEA). All undergraduate students enrolled in the University are 𝙛𝙧𝙚𝙚 of charge in payment of 𝙩𝙪𝙞𝙩𝙞𝙤𝙣, 𝙢𝙞𝙨𝙘𝙚𝙡𝙡𝙖𝙣𝙚𝙤𝙪𝙨, 𝙖𝙣𝙙 𝙤𝙩𝙝𝙚𝙧 𝙨𝙘𝙝𝙤𝙤𝙡 𝙛𝙚𝙚𝙨. In 2022, the university has a total population of 39, 563 students from both undergraduate and graduate programs wherein 37,729 of them are not paying their tuition fees and other miscellaneous fees. From the total enrollees of 31,063 students belong to lower middle class which accounts to a majority of 78.52%.
The goal of RA 10931 is to provide priority to the most underprivileged students to pursue and complete Tertiary Education Programs in the University. In 2022, there are 31,063 students who belong to the low-income family and there are 6,531 or 21.03% total number of graduates who belong to the low-income family.
Implementation of Free Higher Education Act
Isabela State University is one of the best implementers of Tertiary Education Subsidy (TES) under Rule IV of the Republic Act 10931 or the Universal Access to Quality Tertiary Education Act. This is a grant-in-aid program of the government that supports the cost of tertiary education of Filipino students. The financial benefits of TES grantees amounting to 20,000.00 every semester is intended for books, supplies, transportation, miscellaneous, personal expenses, including a reasonable allowance for the documented rental or purchase of personal computer or laptop and other education-related expenses, allowance for room and board costs incurred by the student. For a beneficiary with disability, additional 15,000 every semester will be given to them as allowance or expenses related to the student's disability, including special services, personal assistance, transportation, equipment, and supplies that are reasonably incurred. For a student-grantee in a program requiring professional license or certification, the one-time cost of obtaining the first professional credentials or qualifications amounting to 10,000 which may include notarial fees, review classes fees, insurance premium fees, and documentation fees.
PROGRAM AND INITIATIVES FOR STUDENTS
The Office of Students Affairs and Services (OSAS) established different mechanisms to support the students and to ensure that these students have the necessary support to succeed academically and to graduate on time, the university implemented the following initiatives and programs:
1.1 List of Scholarship Opportunities
The University aspires for more inclusive, high-quality education and leadership development as part of its sustainability effort. For financially disadvantaged students who exhibit academic brilliance, leadership potential, and sportsmanship, we provide a range of financial aid and scholarships.
University Sponsored
Based on Board Resolution No. 65, s. 2028, the Isabela State University Scholarship Unit offers merit scholarship programs to its deserving students in accordance with the policies and guidelines of the University. It is now a standing policy of the university that those merit scholars with entitlements of free tuition and/or miscellaneous fees shall be given the cash incentives accrued to them as per assessment of their fees.
| No. | University Sponsored |
| --- | --- |
| 1 | Athletes Scholarship |
| 2 | Academic Scholarship |
| 3 | Entrance Scholarship with Highest Honor |
| 4 | Faculty Employee Assistantship |
| 5 | ROTC Officer Scholarship |
| 6 | Socio-Cultural Scholarship |
| 7 | Student Organization Scholarship |
| 8 | Student Publication Scholarship |
Government Sponsored (Financial/Educational Assistance)
Aside from Free Tuition Fee and Miscellaneous Fee offered by the government, there are different educational assistance programs given by various government agencies such as Commission on Higher Education (CHED), Department of Agriculture (DA), Department of Science and Technology (DOST), Department of Health (DOH), Congressional Educational Assistance and Municipal Educational Assistance. These educational assistance programs offered by the government is being availed and enjoyed by thousands of students in the entire university system. The main purpose of these grants is to further assist students who belong to economically challenged families to complete their Tertiary Education Programs in the University. In addition, the Isabela State University (ISU) is one of the partner Universities of the Province of Isabela in the implementation of Bojie-Rodito Opportunities Education Assistance Program (BRO-Ed). With BRO-Ed, every farmer-family is guaranteed a college scholarship slot as a special assistance to small farmers who dream of having at least one college graduate in the family. This aims at reducing the financial burdens of farmers in the education of their children, motivating them towards greater productivity.
| No. | Government Sponsored (Financial/Educational Assistance) |
| --- | --- |
| 1 | Agricultural Training Institute Scholarship Program |
| 2 | BRO for Education Scholarship Program |
| 3 | CHED CSP Scholarship Program |
| 4 | CHED TDP-TES Scholarship Program |
| 5 | CHED-TAP Scholarship Program |
| 6 | Cong. Inno Dy Financial Assistance |
| 7 | DA Agricultural Competitiveness Enhancement Fund |
| 8 | DAT – TESDA Scholarship Program |
| 9 | Department of Health Scholarship (DOH) Scholarship Program |
| 10 | DOST Scholarship |
| 11 | LEADS AGRI Scholarship Program |
| 12 | Municipal Educational Assistance |
| 13 | SIDA-SGP (Sugarcane) Scholarship Program |
| 14 | Tertiary Education Subsidy (TES) Scholarship Program |
Private/Non-Government Sponsored Scholarship
To help more students to finish their Tertiary Education Program, the University partners with different private companies and foundation through memorandum of agreement by offering as scholarship program.
| No. | Private/ Non-Government Sponsored |
| --- | --- |
| 1 | Bright Scholarship |
| 2 | Gregorio P. Uy and Lee Peng Scholarship Foundation Inc. |
1.2 Student Assistantship Program
The Isabela State University offers Student Assistantship Program (SAP) which is given to students who render emergency or temporary services to acquire training and gain extra income especially those students who fall into the bottom 20% of household income.
1.3 Student Loan Program
Based on the Board Resolution No. 91 series of 2003 or the establishment of a Student Loan Program (SLP), all bonafide students can avail this loan to aid them in their school needs such as payment in their school project/s, allowances, payment of boarding house and among others.
1.4 Free Wi-Fi and Electricity Bill for Student Occupants
The Office of Student Affairs and Services (OSAS) initiated the free Wi-Fi and electricity bill for student occupants. This program guarantees that all students, regardless of their financial situation, have equal access to digital resources, online classes, and research materials.
1.5 Free Transport Bikes
The free transport bikes for ISU students aim to reduce the impact of poverty by removing transportation expenses as a hindrance to their education. The transport bikes are available for use at designated bike stations near the campus' main gate, colleges, and student dormitories, providing easily accessible transportation for students. The transportation bikes are expected to enhance the mobility and accessibility of the university community, while simultaneously reducing the carbon footprint associated with conventional modes of transportation.
1.6 Free Legal Assistance
Through Board Resolution No. 60 series of 2022, the University established a Legal Aid Clinic. The general goal of the program is to legally empower local communities, especially the students from low-income families, by making justice more accessible to them while in the process continue to uphold the principles of social justice, rule of law, and humanity.
Relationship with NGOs and government agencies and Conduct of Livelihood Programs to the Community
The University is anchored on a philosophy that is open and ready to provide services for the people especially for the underserved, deprived and marginalized. The University offers various assistance and conducts mentorship and training-workshop to identified local communities which is an intervention or mechanism for the target participants to start a sustainable business. One of the programs conducted is Capacity Building on Livelihood Training on the Production of Supplementary Mixed Foods Fortified with CPHP which aims to increase the capability of the men and women beneficiaries of Barangay Salvacion, Echague, Isabela on research based-food product and home care product processing and provide an alternative source of income. The University also conducted Tomato Talk: Empowering Women in Tomato Producing Communities Through Entrepreneurship. The project enables the members of the Roxas West Ladies Tomato Industry (RoxWeLTI) to embark on sustainable production of various tomato food products and to be able to promote and commercialize these.
The Isabela State University (ISU) also organized different trainings and programs to better assist communities in improving their basic services for the people in the locality. The Pangkabuhayan ng mga Ilaw ng Tahanan: Tulong sa Haligi ng Tahanan para sa Pag-angat ng Pamilya provides free training for eco bag crafting, sewing, cutting and printing, and business opportunities and livelihood. In 2022, the University conducted a Supplemental Nutrition Assistance Program for Grade 1 pupils of Carikkikan Norte, City of Ilagan to provide an effective and sustainable source of nutritional meals to improve their health and welfare and to equip them with basic knowledge on food and nutrition.
In addition, the University implemented different extension programs to local communities to aid and provide start-up of financially and socially sustainable businesses through mentorship programs, training workshops, and access to university facilities.
NO.
EXTENSION PROJECT
BUDGET
SOURCE OF FUND
DURATION
ECHAGUE
1
Technology Demonstration and Promotion of Rice-based Crop Diversification for Food Security
30,900.00
SB 164
January 2022- December 2022
2
Encouraging Sustainable Production and Consumption through Establishment of a Farmers Market

50,000.00

SB 164
January 2022- December 2022
3
Enhancing the Competence of the College of Agriculture as Extension Provider in ISU Echague Adopted Barangay
30,000.00
SB 164
January 2022- December 2022
4
Livelihood Skills Development Program for Women in Calamity Affected Areas of ISU Echague Adopted Barangays
30,000.00
SB 164
January 2022- December 2022
5
Enhancing the Livestock production of the Smallholder
30,000.00
SB 164
January 2022- December 2022
6
Strengthening the Capability of the Livestock Raisers in ISU Newly Recognize Adopted Barangays
30,000.00
SB 164
January 2022- December 2022
7
Enhancement of Processed Cacao Products And By-Products Towards Commercial Production Through Capacity Building
17,000.00
SB 164
January 2022- December 2022
8
LIVELIHOOD TRAINING PROGRAM FOR THE 513TH ENGINEER CONSTRUCTION (NASIGLAT) BATALION, 51ST ENGINEER Brigade, Philippine Army CAMP MELCHOR F. DLA CRUZ (ANNEX), BRGY SOYUNG, ECHAGUE, ISABELA.
32,000.00
SB 164
January 2022- December 2022
9
Livelihood Training on the Production of Supplementary Mixed Foods in Barangay Salvacion, Echague, Isabela
25,000.00
SB 164
January 2022- December 2022
10
R2R (RECREATE TO RELIEVE) A recreation Program for Camp Melchor Dela Cruz Offices' Staff.
24,500.00
SB 164
January 2022- December 2022
11
TEACH AND PROVIDE: EXTENSION TRAINING ACTIVITIES OF THE COLLEGE OF EDUCATION (Teach and Provide: A Literacy training Program for Parents of the Adopted barangays of the College of Education
16,000.00
SB 164
January 2022- December 2022
12
TEACH AND PROVIDE: EXTENSION TRAINING ACTIVITIES OF THE COLLEGE OF EDUCATION (Teach and provide: A Leadership Training Program for SK Officials of Barangay San Fabian
16,000.00
SB 164
January 2022- December 2022
13
TEACH AND PROVIDE: EXTENSION TRAINING ACTIVITIES OF THE COLLEGE OF EDUCATION (Gabay-turo kina Nanay at Tatay: Training on Principles of Teaching)
35,000.00
SB 164
January 2022- December 2022
14
The Project Gauge (Gist in Appraising the Universities Gains from Extension
13,500.00
SB 164
January 2022- December 2022
15
Project 4K (Kalinga sa Kalusugan at Kaginhawaan para sa Kaisipan) Community & Population-Based Support Project for Mental Health and Wellness
19,500.00
SB 164
January 2022- December 2022
16
Knowledge enhancement on Agripreneurship, Business Skills, and Technology (KABSAT) Program: Capacity Initiatives for Community Development
30,000.00
SB 164
January 2022- December 2022
17
Enhancing Livelihood of Cacao Farmers Community through Extension and Training Activities: Cacao and Saba Plantation, Production and Processing for the Active and Retired Soldiers, Rebel Returnees and dependents.

20,000.00
SB 164
January 2022- December 2022
18
Development and Processing of Cacao By-Products as Alternative Livelihood Enterprise for Selected 4Ps Beneficiaries of the Adopt-A-Barangay of ISU Echague Campus
20,000.00
SB 164
January 2022- December 2022
19
BETTER LOCAL SERVICES: IMPROVING LOCAL GOVERNMENT DELIVERY THROUGH INNOVATION AND PARTNERSHIPS
30,000.00
SB 164
January 2022- December 2022
20
Capacity Building Program for farmers and Community-Based Cooperatives
18,950.00
SB 164
January 2022- December 2022
21
Mentoring of Senior High School Students
7,300.00
SB 164
January 2022- December 2022
22
Cooperative Development Program
7,300.00
SB 164
January 2022- December 2022
23
Capability Building Program of Business Enterprises in the Municipality of Echague, Isabela
7,000.00
SB 164
January 2022- December 2022
24
Strengthening the capabilities of adopted Barangays of Isabela State University
10,000.00
SB 164
January 2022- December 2022
25
Development of Training Materials and Conduct of Training Series for Irrigators' Association Members on Establishment of Model Farm for sustainable Agriculture
15,000.00
SB 164
January 2022- December 2022
26
TEACH AND PROVIDE: EXTENSION TRAINING ACTIVITIES OF THE COLLEGE OF EDUCATION (A Livelihood Training for Unemployed Women of Barangay San Fabian, Isabela
37,000.00
SB 164
January 2022- December 2022
27
Capability Building on the Beautification of ISU as Agro Tourism Farm Site in Partnership with the 502 Brigade, Philippine Army Camp Melchor F. Dela Cruz (Annex), Barangay Soyung, Echague, Isabela
50,000.00
SB 164
January 2022- December 2022
28
Barangay Healthdisisyon: Barangay Health ICT Empowerment to the 4th District of Isabela
15,000.00
SB 164
January 2022- December 2022
29
TechnoSalin for the Men & Women of Select SUC Communities
25,000.00
SB 164
January 2022- December 2022
30
Empowering Farmers through the Implementation of Lupa @Ani: Agricultural Land and Commodities Management System with Mobile Notification
25,000.00
SB 164
January 2022- December 2022
31
Promoting Transparency in Local Government Units through Implementation of Web-based Public Assistance and Complaints Desk Information System (PACDIS)
16,000.00
SB 164
January 2022- December 2022
32
Empowering Senior Citizens through Implementation of Mobile-based Notification and Automated Senior Citizens' Management Information System
25,000.00
SB 164
January 2022- December 2022
33
Information and Communication Technology (ICT) Empowerment Project for Ugad National School (UNHS)
14,000.00
SB 164
January 2022- December 2022
34
Community assessment on goat raising communities in the Municipalities of Echague and Jones, Isabela and provision of interventions under the Adopt-a-barangay program.
30,000.00
SB 164
January 2022- December 2022
35
Roll-out of goat production technologies thru Farmer Livestock School on Goat Enterprise Management
25,000.00
SB 164
January 2022- December 2022
36
Training on Production of Smoked Tilapia and Tilanggit for COVID-19 affected Residences in Echague, Isabela
50,000.00
SB 164
January 2022- December 2022
37
Instructional Material Development Training for Pre-Service Teachers of the College of Education and DepEd Teachers-Students of the Central Graduate School of Isabela State University
50,000.00
SB 164
January 2022- December 2022
38
Gabay-Turo kina Nanany at Tatay: Training on Principles of Teaching at Home for Mengal Women-parents
50,000.00
SB 164
January 2022- December 2022
39
Establishment of Alternative Livelihood for the Indigenous Community of IKAT, DDM, Bayombong, Nueva Vizcaya
50,000.00
SB 164
January 2022- December 2022
40
Capacity Building on Livelihood Training on the Production of Supplementary Mixed Foods Fortified with CPHP for Barangay Salvacion Echague, Isabela
50,000.00
SB 164
January 2022- December 2022
41
Strengthening Livelihood Towards Sustainable Development Training Program for the 513TH Engineering Construction (Nasiglat) Batallion, 51ST Engineering Brigade, Philippine Army Camp Melchor F. Dela Cruz (Annex), Brgy. Soyung, Echague, Isabela
50,000.00
SB 164
January 2022- December 2022
42
Capability Building on Livelihood (BIDANI-PNEA's) Recipes Utilizing Research-Based Supplementary Mixed Food, Cacao, Turmeric, Malunggay and Home Care Products Processing
50,000.00
SB 164
January 2022- December 2022
43
Community Empowerment for Faciolosis Control in Jones of Isabela
50,000.00
SB 164
January 2022- December 2022
CABAGAN
1
SAVE OUR SPECIES (SOS0) : Communicating Conservation thru the DDCL MFI 2021-2023 Communication Education and Public Awareness (CEPA) Campaign Support for the Establishment of Sanctuaries for Threatened Species in Northeast Luzon
50,000.00
GAA 101
January 2021- December 2023
2
Project CARED (Caring for the Retied, elderly and People with Disability)
50,000.00
SB 164
January 2021- December 2022
3
Multimedia Programming and Podcasting: The Reinvention of Radio
25,000.00
SB 164
January 2021- December 2022
4
Development of MASSIPI Watersshed as Cabagan Agri-Ecotourism Park: ISUC-LGU Partnership Project
50,000.00
SB 164
January 2021-December 2023
5
Kawayanihan Para sa Kaligtasan, Kapaligiran at Pang-Kabuhayan ni Juan
50,000.00
SB 164
March 2021-February 2022
6
Achieving Resilient, Sustainable and Poductive Ecosystems and Livelihood through Climate Resilient Technologies
50,000.00
SB 164
January 2022-December 2022
7
Tomato Talk: Empowering in Tomato Producing Communities Through Entrepreneurship
50,000.00
SB 164
January 2022-December 2022
8
Usapang Pang-Kaunlaran sa Himpapawid Sayatipikong Pagtalakay sa Larangan Agrikultura, Kapaligiraan, Sosyal at iba pa
34,600.00
SB 164
January 2022-December 2022
9
Development of Sustainable High Value Vegetable Production in Cabagan, Isabea Gulyan sa Barangay Towards Food Security Amidst COVID-19
50,000.00
SB 164
January 2022-December 2022
10
ISU on Peace & Order and Public Safety (POPS) of LGU -Cabagan
50,000.00
SB 164
January 2022-December 2022
11
Project REFOCUS: Refocusing Efforts through Technology Support and Livelihood for Development
49,400.00
SB 164
January 2022-December 2022
12
Project Red: Redesigning Workflow towards a Sustainable Efficient School Ecosystem
25,000.00
SB 164
January 2022-December 2022
13
Pagkakabute Para sa Magandang Buhay: An Alternative Livelihood Program
30,059.00
SB 164
June-July 2022
14
Ist Povincial Research Proposal and Publication Writeshop in the Fields of Biological Sciences and Allied Sciences (DNAS-CDCAS-ISU DETS in cooperation with BIOTA Phil Inc.)
50,000.00
SB 164
Apr-22
15
Competency Enhancement on Basic Microscopy & Laboratory Techniques of Senior High Science Teachers in Isabela
50,000.00
SB 164
June-July 2022
16
Psychological First and Training-Workshop: A Response in the New Normal
30,000.00
SB 164
January 2022-December 2022
17
Publish and Profit: Training and Coaching Aspiring Faculty Researchers on Research Publishing
46,000.00
SB 164
January 2022-December 2022
18
Adopt-A-School Program
50,000.00
SB 164
2018-2022
19
Entrepreneurial Development Program on Garments, Handicrafts and Candle Making
50,000.00
SB 164
March 2022-December 2022
20
Upgrading Skills for Catering Business Among Members of Cabagan Green Ladies Association and Entrepreneurship
50,000.00
SB 164
January 2022-December 2022
21
Livelihood Skills Development Project: Basic to intermediate baking skills transfer
50,000.00
SB 164
January 2022-December 2022
22
Training in Organic Agriculture Regulations and Participatory Guarantee System
40,000.00
SB 164
January 2022-December 2022
23
Capability Building of Small Farmers thru Agricultural Crops Production NC II Training
50,000.00
SB 164
January 2022-December 2022
24
Promotion of Sustainable Rice Production System in Rain-fed Areas thru Participatory Technology Demonstration in Sta. Maria and Tumauini, Isabela
50,000.00
SB 164
April 2022-November 2022
25
Skills Upgrading Program for Rice Farmers under Rice Competitiveness Enhancement Fund
50,000.00
SB 164
January 2022-December 2022
26
Empowering Rice Farmers thru training on Production of High-Quality Inbred Rice, Seed Certification and Farm Mechanism under System of Rice Intensification (SRI)
50,000.00
SB 164
January 2022-December 2022
27
Empowering Rice Farmers through training on AgroEntrepreneurship NC II and Book Keeping NC III under Rice Competitiveness Enhancement Fund
50,000.00
SB 164
January 2022-December 2022
28
Rice Productivity Value Chain Upgrading Skills Training for Rice Farmer under Rice Competitiveness Enhancement Fund
50,000.00
SB 164
January 2022-December 2022
29
Empowering Dairy Raisers in Cabagan, Isabela through Dairy Production and Processing Training
50,000.00
SB 164
January 2022-December 2022
30
Empowering Animal Raisers of Tumauini, Isabela through Animal Production and Animal Healthcare and Management
50,000.00
SB 164
January 2022-December 2022
31
Capacitating Community People Through a Training Program for Local Government Units and Peoples Organization of Northern Isabela
50,000.00
SB 164
January 2022-December 2022
32
Articulating Electoral Interest of Grassroots Organization through Existing Extension Network towards Electoral Agenda
50,000.00
SB 164
January-July 2022
33
Community Learning Tech Hubs in Northern Isabela: Creating Equity and Access to Education
34
Capacitating Community People through Trainings and Technical Assistance for Local Governement Units (LGUs) and Peoples Organizations (Pos) of Isabela and Cagayan
CAUAYAN
1
Bayle Kultura De Isabela : A Dance -Training Workers of the Different Cultural Dances of Isabela for the Performance of LGU Cauayan City and Non Government Organization
49,950.00
SB 164
January 2022-December 2023
2
One CBM Community Empowerment
50,000.00
SB 164
January 2022-December 2023
3
Pato Manok at Gulay, Maka-kabuteng Pangkabuhayan
50,000.00
SB 164
January 2022-December 2023
4
Public Order, Law Intervention and Community Empowerment An-Extension-Based Project for Community Development
50,000.00
SB 164
January 2022-January 2024
5
Tulong Dunong sa Kawaning Gobyerno ng Isabela
50,000.00
SB 164
January 3, 2022-December 31, 2022
6
Establishment of Laboratory for Pure Culture and Mushroom Production for Extension and Commercial Production
50,000.00
SB 164
January 2021-January 2024
7
AMBISYON 2030: Transforming the Depressed,Oppressed, Poor and Exploited (DOPE) Communities in the Province of Isabela
50,000.00
SB 164
February 2021-February 2023
8
Munting Paaralan-Scaffolding Young People Towards Holistic Development: An Extension Program of the College of Education, Isabela State University Cauayan Campus
50,000.00
SB 164
9
Paghahandog ng CaSerbisyong Panlipunan sa Drug at Youth Reformists ng Balay Silangan at Bahay Pag-asa sa Sitio Manalpaan, San Pablo, Cauayan City, Isabela
50,000.00
SB 164
10
Partnership Among Local Resource Intitutes (POLARIS)
50,000.00
SB 164
January 2021-December 2022
11
Integrated and Mutual Police and Academe Collaboration (IMPAC): ISU Cauayan RDET Initiatives for PNP Cauayan City
50,000.00
SB 164
January 2021-Decemebr 2022
ILAGAN
1
Barangay Health Workers Training on Chronic and Acute Body Pain Phase 2
50,000.00
SB 164
January 2022-August 2022
2
PFA for AFP: Capacitating the Soldiers with Skills in Responding to their Psychological Needs in the aftermath of war.
20,000.00
SB 164
January 2022-December 2022
3
Barangay Healthcare Worker Literacy Program
50,000.00
SB 164
January 2022-December 2022
4
Komyunidad Linangin,TradeTraining Dalhin: A Community Empowerment Project Amidst COVID Pandemic Through Short-Term Trade-Technical Trainings in the Adopted Barangays of ISU-Ilagan
50,000.00
SB 164
January 2022-December 2022
5
Revisit "Adopt A Church Project"
50,000.00
SB 164
January 2022-December 2022
6
SOM BHEST (Strengthening Obstetric for Mothers in the Barangay for Healthcare Enhancement and Sustenance)
40,000.00
SB 164
February 2022-December 2022
7
Project BeCAHS (Beauty Care & Hair Services) Enhancement Training
50,000.00
SB 164
January 2022-December 2022
8
The Project SPEAR: Acing Health and Fitness
50,000.00
SB 164
January 2022-December 2022
9
Fostering Information Technology and Technical training Skills via Job opportunities in the Barangays (FITTS-JOBs)
50,000.00
SB 164
January 2022-December 2022
10
Ibahagi ang Talino ng IT: Developing Resilient Community and of barangay Mangcuram, City of Ilagan, Isabela to New Normal Learning Environment
50,000.00
SB 164
January 2022-December 2022
11
Empower Women by Handicraft and Clothing Up-cycling Training
50,000.00
SB 164
January 2022-December 2022
12
Puno ng Malunggay sa Barangay
50,000.00
SB 164
January 2022-December 2022
13
Towards a Research Responsive Teachers (TARRT) Writing and Conducting Research Capability Building
50,000.00
SB 164
January 2022-December 2022
14
Project TEACH (Train Every Abandoned Child: a Journey Towards Life Skills & Wellness
50,000.00
SB 164
January 2022-December 2022
15
Lingkod Bayan Bayanihan 1.0: A collaborative Project for the Capability Building Enhancement of ISU-Stakeholders
59,000.00
SB 164
January 2022-December 2022
16
Kabataang Ilagueno Linangin para sa Organisadong Serbisyo at Pangkabuhayan Asensado: an Education and Livelihood skills Training Program to Empower the Sanguniang Kabataan of the City of Ilagan
50,000.00
SB 164
January 2022-December 2022
17
Competency Program: Building A Scientist Empire Through Research Technical Know-How & Advancement in Higher Education
45,900.00
SB 164
January 2022-December 2022
18
Gabay sa Unang Lakbay Program: a Collaborative Project of ISUI Faculty and Students' Body Organizations for Grade 1 Pupils
50,000.00
SB 164
Januay 2022-October 2022
19
Hands-on Learning Enhancement Program (HELP): A Community- Based Learning Intervention for Elementary Pupils by ISU-Ilagan Pre-Service Teachers
48,750.00
SB 164
20
ISU-AKAP (ISU-katuparan ang akayat at Pagkalinga): A healthy & Wellness Program For Senior Citizens in the City of Ilagan
50,000.00
SB 164
March 2022-December 2022
21
Project 1: From Rags to Riches: Environmental awareness and Wastes Management Techniques for a Livelihood Enterprise
50,000.00
SB 164
January 2022-December 2022
22
Education and Skills Training for the Public agency Personnel in the City of Ilagan
25,000.00
SB 164
January 2022-December 2022
23
Earning while Waiting (Phase 2) : A livelihood Enterprise Development Program for Persons Deprived of Liberty of the Bureau of Jail Management and Penology -City of Ilagan, Isabela
50,000.00
SB 164
24
Project "ROGER" Rebuild, Overhaul, Generate income thru motorcycle, Engine Servicing and Repair.
50,000.00
SB 164
January 2022-December 2022
SAN MATEO
1
PROJECT CAVE
50,000.00
SB 164
January 2021-January 2026
2
PROJECT MAESTRA : Materializing Academic Edge through Seminars, Training and other Related Activities
50,000.00
SB 164
January 2022-December 2023
3
Gabay ng Kabataan, Susi sa Magandang Kinabukasan
32,000.00
SB 164
January 2022-December 2022
4
Basic Computer Operation Literacy Phase II
36,012.00
SB 164
January 2022-December 2022
5
Computer System Servicing Training for Out of School Youth (Dunong para sa Mamamayan ng San Mateo)
14,920.00
SB 164
January 2022-December 2022
6
Training on Mushroom Production for Marginal Farmers and other Stakeholders of San Mateo Isabela
39,000.00
SB 164
January 2022-December 2022
7
Processing of Mungbean: An Innovative Product of Black Gold
50,000.00
SB 164
January 2022-December 2022
8
Sining ng Paghahalaman Sagot sa Hapagkainan
35,000.00
SB 164
January 2022-December 2022
9
Manok'an , Patohan, sa Goat sa Pangkabuhayan
50,000.00
SB 164
January 2022-December 2022
10
Solusyon ni (JEENA) JOB and Economic Enhancement Alternatives: An Economic Development Opportunity Program for Residents of San Mateo Isabela
50,000.00
SB 164
January 2022-December 2022
11
Designing and Construction of Egg Incubator
30,000.00
SB 164
January 2022-December 2022
12
Dagdag Kita: Proyektong Pangkabuhayan Mag Aahon sa Kahirapan
50,000.00
SB 164
January 2022-December 2022
13
Hanap Buhay mula sa araw
SB 164
January 2022-December 2022
14
Pangkabuhayan ng mga Ilaw ng Tahanan: Tulong sa Haligi ng Tahanan para sa pag angat ng pamilya
50,000.00
SB 164
January 2022-December 2022
JONES
1
Season Long Training of Farmers on Vegetable Production
27,030.00
SB 164
January 2021-December 2022
2
TEACH To REACh (Training and Education to Advocate Contextual and Happy Learning to Redefine Education Amid Challenges in the Basic Education Community)
43,010.00
SB 164
January 2022-December 2022
3
Managing Through Emergency and Disaster with Android Application: A Skills Development Training for Men and Women Barangay Officials and Tanods
22,756.00
SB 164
January 2022-December 2022
4
Training and Technology Promotion of Off-Season Vegetable Production
50,000.00
SB 164
January 2022-December 2022
5
Capability Building Project for Raisers Goat Production in Jones, Isabela
34,649.00
SB 164
6
Mental Wellness Program for Jones, Isabela Frontliner Workers amidst Pandemic
50,000.00
SB 164
January 2021-December 2022
7
Psychological Intervention Program for Teenage Pregnancy and Teenage Mother Recuperations
30,000.00
SB 164
January 2021-December 2023
8
Establishment and Implementation of Learning Site for Sloping Agricultural Land Technology (SALT)
50,000.00
SB 164
January 2022-December 2022
ANGADANAN
1
Technology Transfer of Installation and Maintenance of Economically Viable & Upgradable Hybrid Photovoltic System for Households
31,000.00
SB 164
January 2022-December 2022
2
Capacity Building of the Adopted Secondary School in Angadanan
50,000.00
SB 164
January 2022-December 2024
3
Product Development & Skills Training on "Kalapay, Pitaka & Vase
50,000.00
SB 164
January 2022-December 2022
4
Fruit Wine Making of ISU-Angadanan Campus
50,000.00
SB 164
January 2022-December 2022
5
Gender Responsive Actions for Transformation (MISSION: GREAT)
50,000.00
SB 164
January 2022-December 2022
6
Program for the Less Served Individuals (PLSI) : An Extension Program of the Polytechnic School of ISU-Angadanan
50,000.00
SB 164
January 2022-December 2022
7
Food Safety and Livelihood During Pandemic Thru Smart and Home Vegetable Gardening
35,000.00
SB 164
8
Project Epolice: Empowered Police Officers through Literacy Improvement in Computer Education
50,000.00
SB 164
9
Sining Tanghal sa Eskuwela
17,000.00
SB 164
January 2022-December 2022
10
Literacy Tutorial Instruction on the determined subjects to be tutored for Calabayan Elementary School
20,000.00
SB 164
January 2022-December 2022
11
Kalapay, Pitaka & Vase: KPV Advocacy
ROXAS
1
GULAYAN SA PAMAYANAN PARA SA MALUSOG AT MALAKAS NA PANGANGATAWAN: A SUSTAINABLE VEGETABLE PRODUCTION AMIDST PANDEMIC CRISIS
50,000.00
SB 164
January 2022-December 2022
2
Career Headway: Examination's Review for Government Employee
50,000.00
SB 164
January 2022-December 2024
3
Road Users Traffic Education in the Municipality of Roxas, Isabela
20,000.00
SB 164
January 2022-December 2023
4
Strategies for improving Criminologist Licensure Examination Performance
January 2022-June 2022
5
Capacity Building on the ICT Knowledge and Skills on Both Hadrware and Software Application for BJMP Personnels and Persons Deprived of Liberty (PDLs)
20,000.00
SB 164

January 2022-December 2023

6
Gateway to Darkness: ISU ROXAS intervention to MCIA community of Matusalem, Roxas, and Isabela
20,000.00
SB 164
January 2022-December 2023
7
Gender and Development Project: Increasing Rural Women Participation in the Fisheries Post-Harvest Livelihood
SAN MARIANO
1
Boosting Life, Research and Instruction through ICT Program of the Institute of Information and Communication Technology
31,148.27
SB 164
January-December 2022
2
Climate Change Resiliency: A Community Based Agricultural Products Livelihood and Enterprise Development of Adopted Barangays of ISU San Mariano (Phase 2)
50,000.00
SB 164
January-December 2022
3
Gender and Development Awareness/Advocacy Program of ISU San Mariano (Phase 2)
50,000.00
SB 164
January-December 2022
4
Local Youth
Engagement and Development Program
104,949.00
SB 164
January-December 2022
5
NEPANG: Negosyong Pangkabuhayan Tungo sa Kaunlaran: An Entrepreneurial Capacity Building Among the Men and Women of the Adopted Barangays
50,399.75
SB 164
January-December 2022
6
RISE and RAISE Project: Reviving Interest for Skill Empowerment through Reading Activities for Intellectual Skill Excellence Cum Leadership Enhancement Sessions: A Capability Building for the SK Officials and Members in the Municipality of San Mariano
41,986.00
SB 164
January-December 2022
7
Project SEPAK (SErbisyong PAngkabuhayan at Kaagapay): A Livelihood Enterprise Project in Maximizig the Locally Available Lubeg fruits
94,588.94
SB 164
January-December 2022
8
Upscaling Native Chicken Production Towards Profitable Enterprise for Male and Female Farmers of ISU San Mariano Through Poultry Multiplier Farm
25,988.14
SB 164
January-December 2022
9
Work Attitudes and Values Enhancement (WAVE)
19,697.00
SB 164
January-December 2022
10
WHOLE Project: Writing for Hope through Obedience, Labor and Effectiveness Cum IT Literacy Sessions for San Mariano and Benito Soliven Barangay Secretaries and Treasurers
20,166.00
SB 164
January-December 2022