2022 – Reports | SDG 4 – Quality Education

Isabela State University (ISU) stands as one of the prominent Level IV State Universities and Colleges (SUC) in the Philippines and its significance in promoting and contributing to the Sustainable Development Goal 4 (SDG 4) – Quality Education is undeniable. The institution plays a pivotal role in the pursuit of SDG 4, which endeavors to guarantee inclusive and equitable quality education while fostering lifelong learning opportunities for all.
One of the primary reasons why ISU is instrumental in advancing SDG 4 is its commitment to providing high-quality education to a diverse range of students, regardless of their socio-economic backgrounds, geographic locations, or personal conditions. This commitment aligns perfectly with the essence of SDG 4, which emphasizes the importance of inclusivity and equity in education. ISU recognizes the transformative power of education and aims to ensure that no one is left behind in their pursuit of knowledge.
4.2.1 – Number of graduates
ISU's focus on inclusive education extends beyond traditional classroom settings as it introduces and embraces innovation in the curriculum and delivery of instruction. The university actively works to create a learning environment that caters to the unique needs of its students, and as a comprehensive university, ISU provides quality education through its 6,894 graduates in different programs fully prepared to make a difference in their field of specializations like Agriculture, Architecture and Fine Arts, Business and Management, Criminal Justice Education, Engine, Science and Mathematics, Information Technology, Social Science and Communication, Multidisciplinary and Interdisciplinary and Teacher Education enabling learners to choose the path that best suits their interests and aspirations.
4.2.2. Number of graduates who qualified to teach at primary school level
The following qualifications are contributing factors to Isabela State University's education degrees renowned for their prominent nature: The College of Teacher Education in Cabagan Campus has been officially recognized as a Center of Development by the Commission on Higher Education.
Most of the campuses have been granted Level IV, Level III and Level II re-accreditation status by the Accrediting Agency of Chartered Colleges and Universities in the Philippines (AACCUP). The faculty members possess specialized expertise in the domain of education, having undergone rigorous training in enhancing instructional methods and pedagogical approaches. Consequently, their graduates emerge as highly competent professionals, well-prepared to embark upon a profession in primary school education.
The graduates of the following education courses who are qualified to teach in the primary level are the: BSE (Bachelor of Science in Education), BEED (Bachelor of Elementary Education), BTLED (Bachelor of Technology and Livelihood Education), BPED (Bachelor of Physical Education), and BTVTED (Bachelor of Technical-Vocational Teacher Education).
4.3. Lifelong Learning Measures
4.3.1. Does your University as a body provide access to educational resources for those not studying at the university, e.g. computers, library, online courses, access to lectures?
The extension of ISU's digital resources like the Linker e-Journal reaches far and wide, transcending geographical boundaries, and enhancing the reach and impact of the university's intellectual output. This approach not only benefits the academic community but also opens up opportunities for a broader variety of users, including alumni and community members, to access and derive value from the wealth of e-journals offered by the institution.
One of the most notable features of this effort is the inclusion of remote accessibility to scholarly resources. The availability of this accessibility enables individuals who are not part of the traditional academic environment to remain connected with the most recent advancements in their areas of interest. Alumni, for example, have the opportunity to remain updated on the latest research discoveries and emerging trends within their respective fields of specialization, so enhancing their professional knowledge and fostering a culture of lifelong learning.
For community members, the opportunity to engage with ISU's e-journals represents a significant educational boon. It facilitates lifelong learning and serves as a bridge between the academic world and the broader community. This engagement is particularly valuable in promoting literacy, critical thinking, and a deeper understanding of various subjects, thereby contributing to the overall intellectual and cultural development of the community.
Furthermore, ISU's approach to resource sharing goes beyond mere accessibility; it paves the way for meaningful collaboration and partnerships with external organizations. By making its e-journals available to a wider audience, the university invites a diverse array of stakeholders to join in the quest for knowledge and discovery. This collaboration can lead to the cross-fertilization of ideas, joint research endeavors, and the forging of mutually beneficial relationships.
In essence, ISU's commitment to resource sharing goes beyond the boundaries of its campus, becoming a catalyst for knowledge-sharing within the wider community. It embodies the ideals of a modern, interconnected world where education, research, and engagement know no bounds, and where the power of information is harnessed to the benefit of all. By extending its digital resources and fostering a culture of open access, ISU is not only enriching its academic community but also contributing to the greater good of society, reinforcing the notion that knowledge should be accessible and shared for the betterment of all.
4.3.2 – Does your university as a body host events at university that are open to the general public: public lectures, community educational events?
In the pursuit of SDG 4, lifelong learning is a key element, and ISU recognizes its significance. Lifelong learning implies that education is not confined to a specific stage in life but is a continuous process that evolves as individuals grow and adapt to changing circumstances.
ISU promotes this idea by offering various programs and opportunities for continuing education and skill development to its alumni, working professionals, and community members as well as incorporating new skills developing creative and critical thinking and entrepreneurial management.
These initiatives allow individuals to upskill, reskill, and remain competitive in an ever-changing job market and some of these initiatives are worth mentioning. The webinar, titled "AHON: REVIVING, REBUILDING, AND ADAPTING INTO THE NEW NORMAL OF THE HOSPITALITY AND TOURISM INDUSTRY," organized by Isabela State University, is significant for the general public as it assists individuals in overcoming financial obstacles, imparting valuable knowledge and inspiration, facilitating networking, and providing essential tools for navigating the hospitality industry. They create an inclusive and supportive environment that allows individuals to pursue their aspirations and achieve success in the dynamic industry.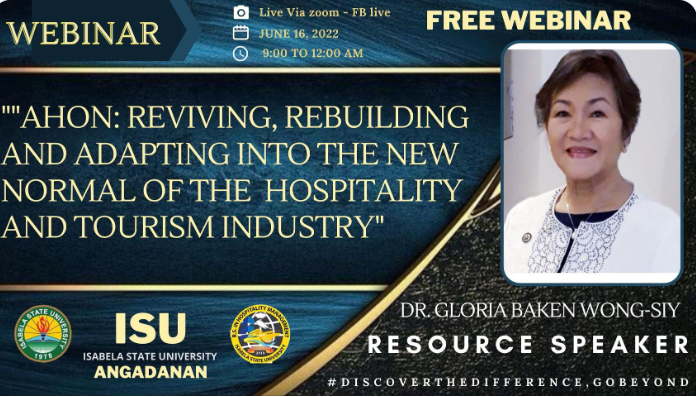 The Isabela State University, in collaboration with the Ordo Justianist Organization, offers complimentary civil service examination preparation courses to the public residing in the province of Isabela thru their extension and community outreach activity "TULONG-DUNONG PARA SA KAWANING GOBYERNO", providing free civil service lectures, review materials, and courses. This is a proactive measure aimed at promoting equal opportunities for all individuals taking the exam. This initiative aims to enhance their chances of passing the exam and subsequently, when employed in government offices, enable them to effectively deliver high-quality public services.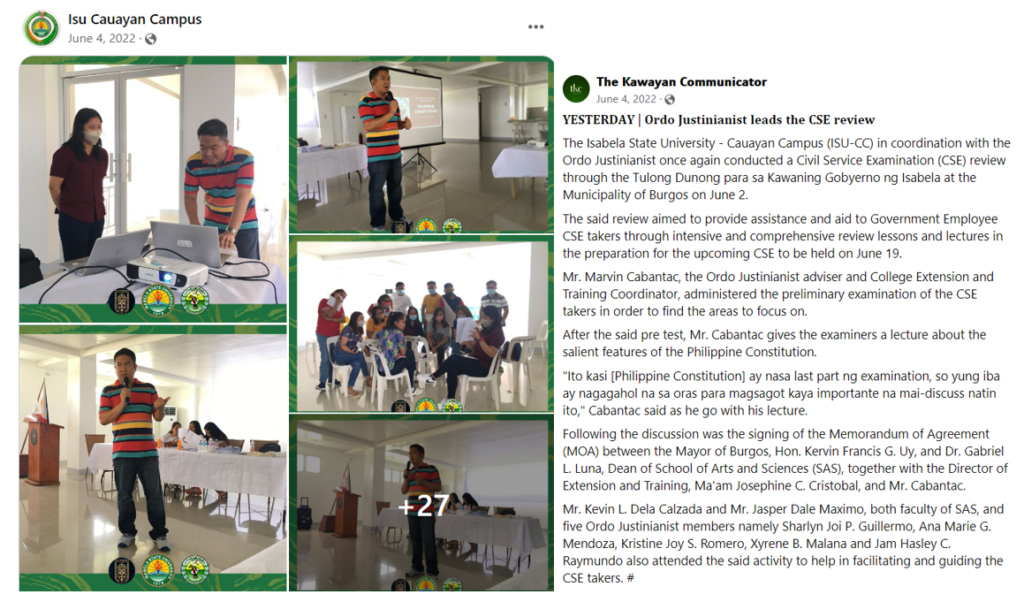 4.3.3 – Does your university as a body host events at university that are open to the general public: executive education programmes (this refers to short courses for people who are not attending the university; this specifically excludes courses like MBA) and/or vocational training?
ISU further contributes to the achievement of Sustainable Development Goal 4 through active engagement and cooperation with diverse stakeholders, encompassing government organizations, non-governmental organizations, and private enterprises. Through collaboration, these groups have the opportunity to combine their resources and skills in order to improve the quality and accessibility of education.
The necessity of partnerships in solving the complex difficulties associated with education and achieving Sustainable Development Goal 4 is acknowledged by ISU, hence the different campuses were authorized by the Technical Education and Skills Development Authority (TESDA) to offer vocational courses and training to the general public, including non-enrolled individuals.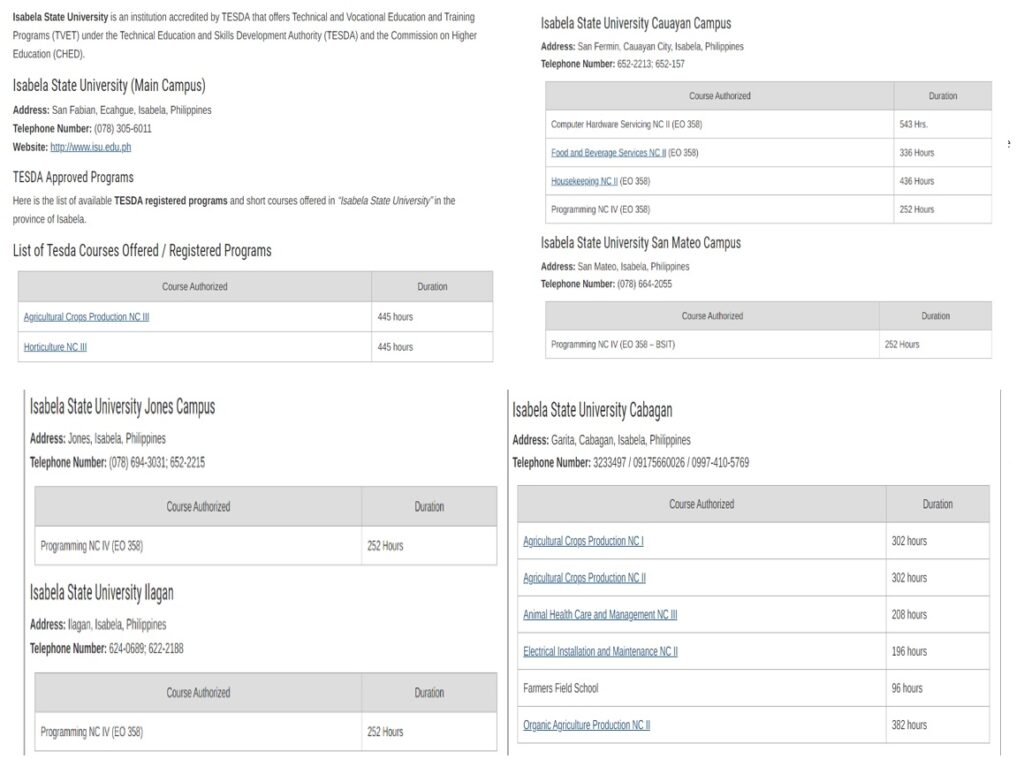 The Technical Vocational Education and Training Competency Assessment Centre (TVET-CAC) at Isabela State University Echague Campus has provided training to 25 trainees in Agricultural Crops Production NC III through the TESDA "Tulong Trabaho" Scholarship Program. This program aims to assist individuals in obtaining employment and enhancing their quality of life. This opportunity improved the lives of displaced workers, OFW dependents, Indigenous Peoples, long-term unemployed, and out-of-school youth and addressed their unique needs and challenges.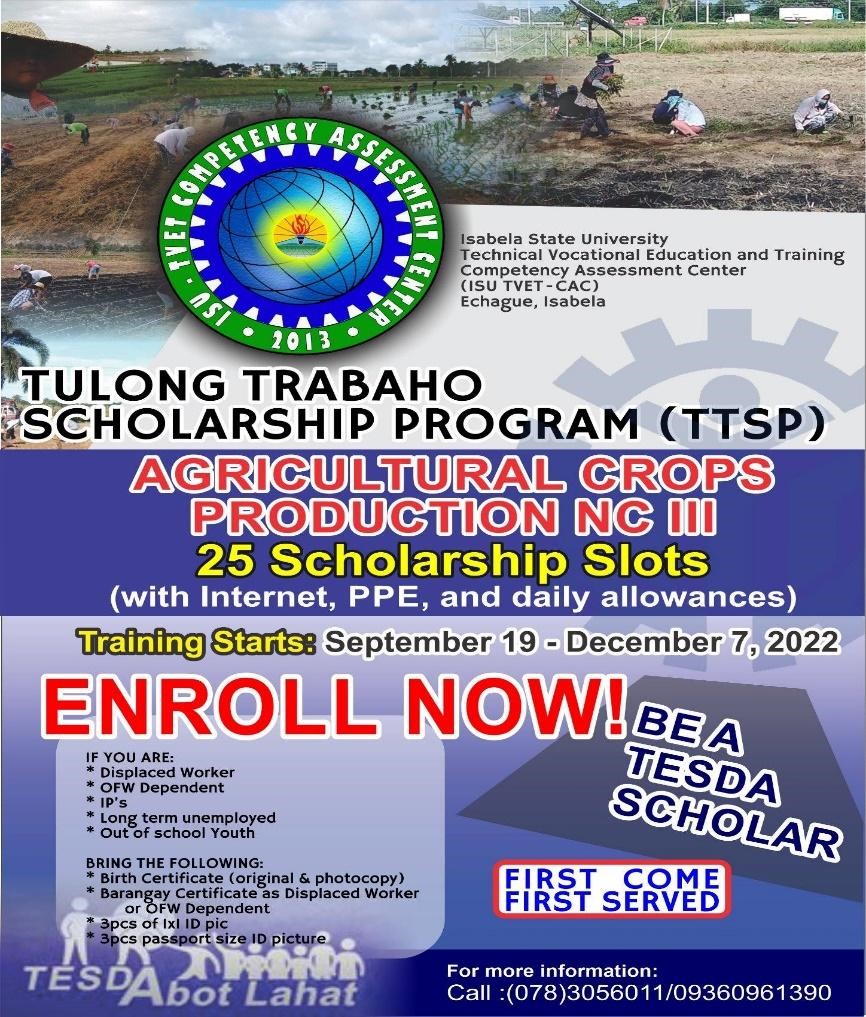 4.3.4. Does your university as a body undertake educational outreach activities (e.g. tailored lectures or demonstrations) beyond campus, e.g. in local schools, in the community, including voluntary student-run schemes?
The different campuses undertake outreach activities in order to help its stakeholders and its adopted communities improve their quality of living. These initiated sustainable livelihood programs were customized to their respective locations and the resources they had access to. Here are some of the major initiatives of the four campuses: Ilagan, Roxas, San Mateo and Jones.
The ISU-Ilagan Campus conducted a series of face-to-face training in Carikrikan, City of Ilagan, dubbed "Training "in Electrical Appliances Repair and Maintenance." This helped the residents learn how to fix and take care of common household gadgets; it created jobs, saved money by making appliances last longer, and kept people safe from electrical accidents. It also taught them to address SDG 7—affordable and clean energy—by reducing energy waste and helping the environment by preventing old appliances from improper disposal.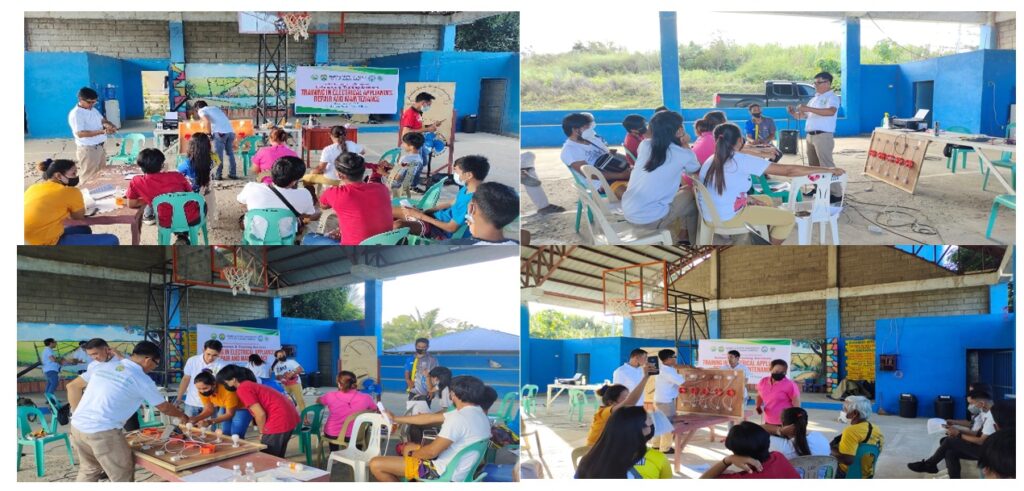 The Roxas Campus, in partnership with the Provincial Institute of Fisheries, conducts an outreach program called the "GENDER AND DEVELOPMENT PROJECT: Increasing Rural Women Participation in the Fisheries Post-Harvest Livelihood." This project aims to provide training to women organizations on food handling, sanitation, and creative product development using fish. This collaboration facilitated the empowerment of women as entrepreneurs.

Isabela State University-San Mateo Campus, in partnership with the Department of Trade and Industry, Isabela Provincial Office, and the National Irrigation Administration, conducted training sessions on rag weaving and eco bag sewing in Olango, Mallig, Isabela. As a result, the community has been introduced to digital marketing, enabling them to promote and sell their products online.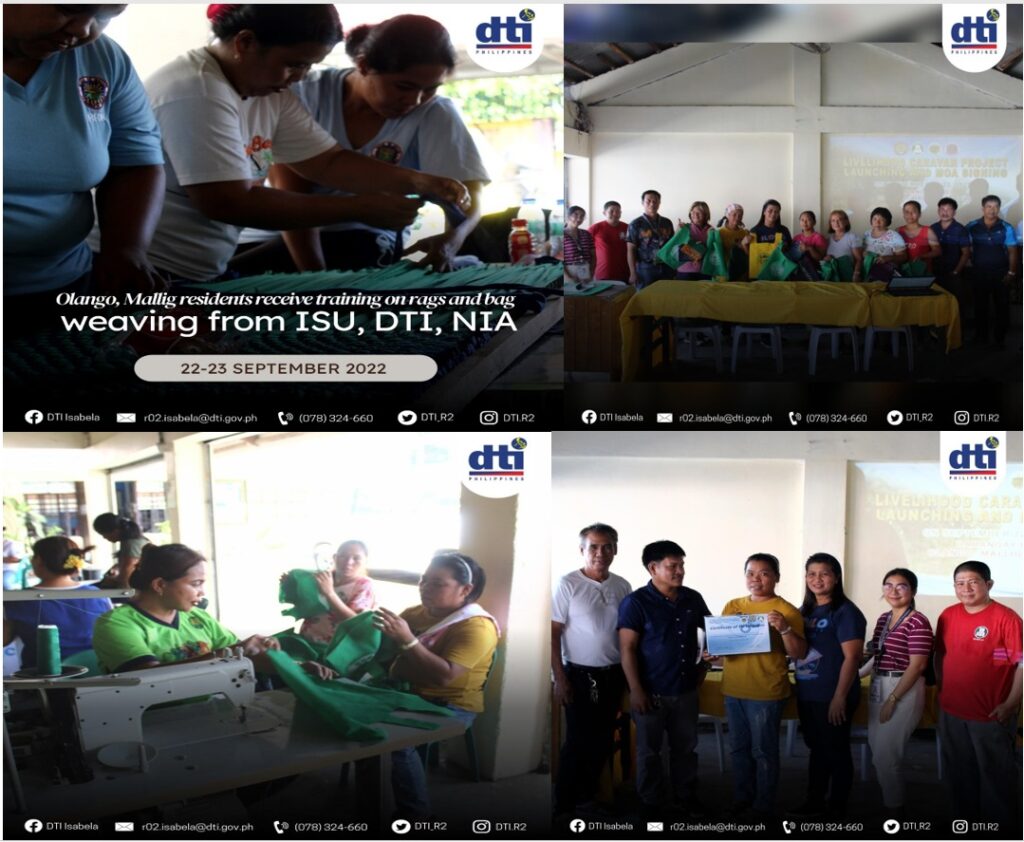 In Jones Campus they implemented the activity "Garden mo I-Flex mo! Plant- Plant- Plant Program of the Department of Agriculture". The program assisted the community in becoming primary drivers of food security, which is also in line with SDG 2's goal of eliminating hunger.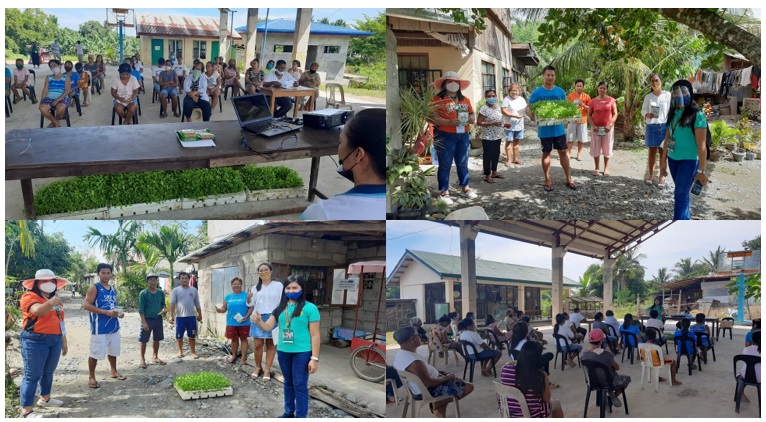 With the different initiatives of Isabela State University's outreach activities, it contributed to the community's economic growth, job creation, and enhanced quality of life.
4.3.5 – Does your university as a body has a policy that ensures that access to these activities is accessible to all, regardless of ethnicity, religion, disability, immigration status or gender?
ISU implements policies and practices that facilitate access for marginalized and underserved communities, such as indigenous peoples and individuals with disabilities. This approach to inclusive education is instrumental in breaking down the barriers that hinder equal access to learning opportunities. Isabela State University (ISU) is a government educational institution that promotes inclusivity. As such, it has implemented policies to ensure equal access for individuals of all ethnicities, religions, disabilities, immigration statuses, and genders. These policies are found in the ISU Student Manual and the ISU Affirmative Action Programs, which aim to enhance access for disadvantaged students in compliance with RA 10931. These affirmations serve to empower all individuals.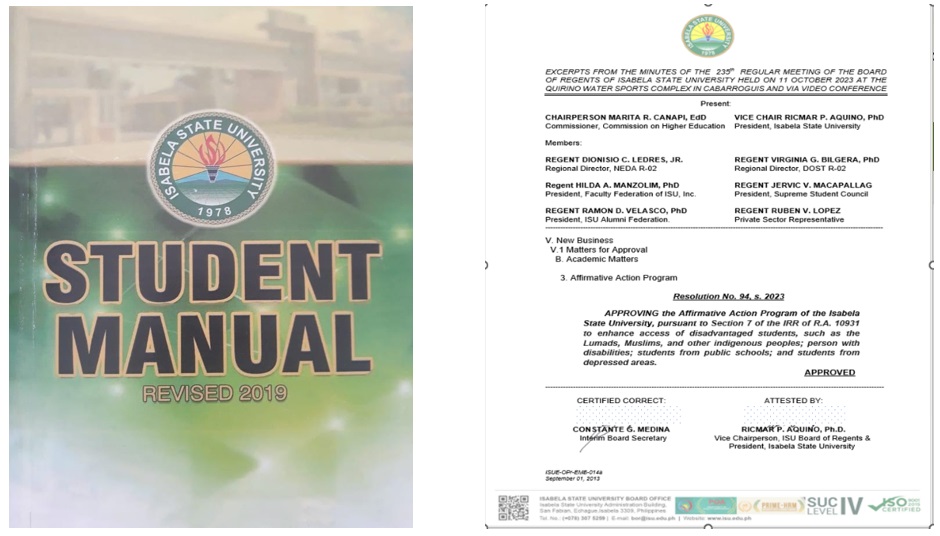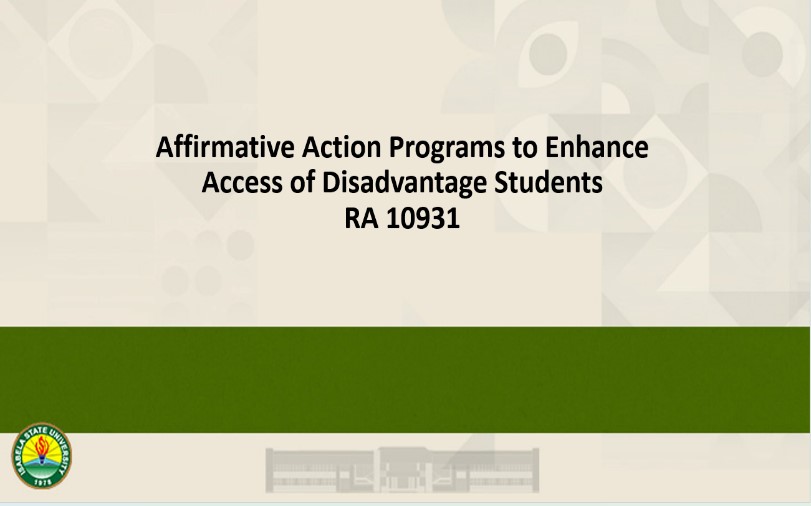 4.4. Proportion of first-generation students
4.4.1 – Number of students
Isabela State University, a SUC Level IV Tertiary Institution, ISO Certified, and PQA Award recipient, shows the robust enrolment of students from baccalaureate to doctorate degrees. This indicates the high confidence of students, parents, and other stakeholders in the quality of education that ISU is offers. Out of the 39,563 students enrolled, 96.55% were enrolled in the Baccalaureate degree, 2.82% were enrolled in the Masters' degree, and 0.63% were enrolled in the Doctorate degree.
4.4.2- Number of students starting a degree
The data is the total headcount of students starting a degree in the different programs of the university at the undergraduate level during the first semester of 2022-2023. It shows that there were 27.64% of the 39,563 total students starting a degree at the university.
This is an indication that the course preferences of senior high school graduates are available at ISU. This will help their parents in their financial undertakings as well as the safety of their children due to the proximity of the location.
4.4.3 – Number of first-generation students starting a degree
The data is the total headcount of first-generation students starting a degree in the different programs of the university at the undergraduate level during the first semester of 22-2023. It shows that there were 8.32% of first-born-generation students starting a degree out of the 39,563 total students during the first semester of 2022-2023.