2022 – Reports | SDG 5 – Gender Equality

Isabela State University has continuously shown support for integrating into the academic community the aims of Gender Equality as one of the United Nation's Sustainable Development Goals. This makes ISU more responsive to the call for making the education sector more gender-sensitive and supportive to the needs of every individual within and outside the institution. Concrete steps and measures have been implemented to increase gender awareness, be more proactive to problems concerning gender, and eventually reduce gender inequality.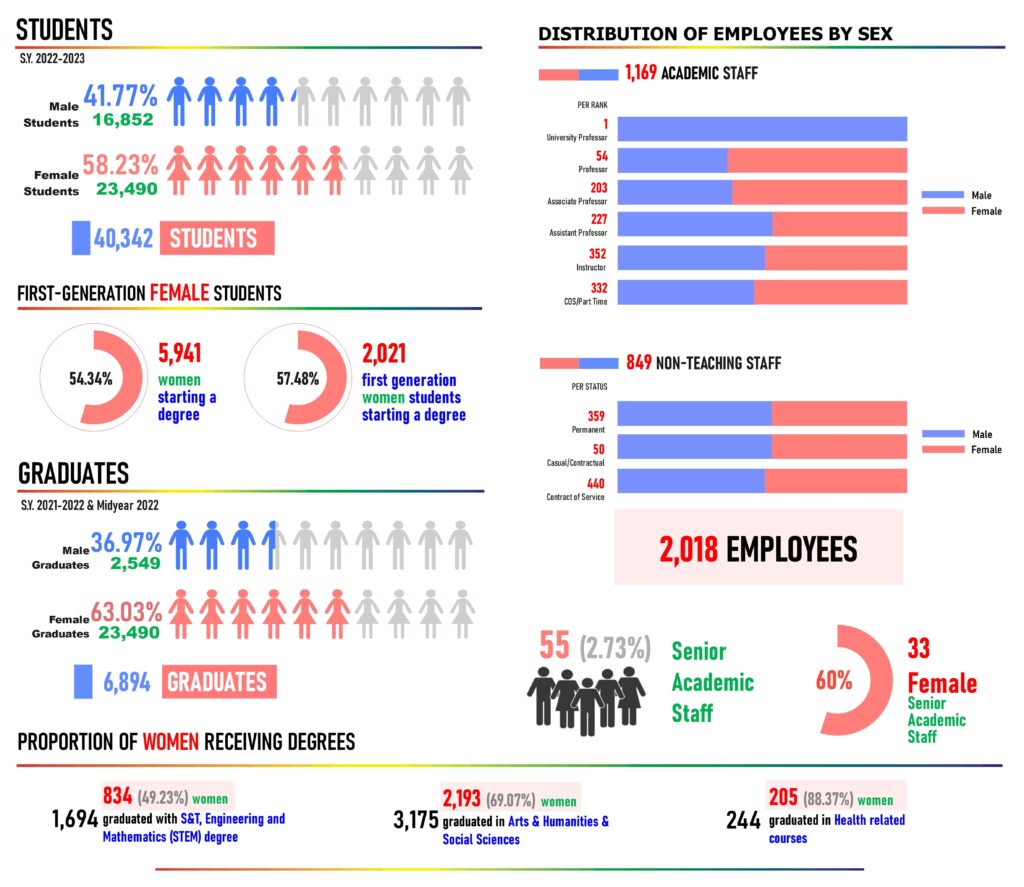 ISU as the Regional Gender Center

Isabela State University houses a new regional center that focuses on gender and development (GAD) after getting support and approval from the Regional Development Council.

RDC thru Resolution No. 02-11 s. 2022 endorsed the creation of Regional Gender and Development Research and Learning Center during its 122nd Joint RDC Full Council and Advisory Committee.

The center reinforces national efforts on strengthening regional mechanisms for GAD by streamlining gender responsive governance in the region.

ISU's existing Gender Resource Research and Development Center (GRRDC) serves as the counterpart Research and Learning Center (RLC), which caters knowledge generation on gender research and women's studies.

The RLC is being managed by a Technical Working Group led by the ISU GRRDC Director, along with GAD focal persons of Batanes State College, Cagayan State University, Nueva Vizcaya State University, and Quirino State University as members.
As part of its commitment as a higher education institution, ISU caters to diverse learners who come from various places. Records show that over the years, there has been an increasing trend in ISU's enrollment rate from senior high school to graduate level. Data reveal a whooping 40,342 enrollees during the first semester of SY 2022-2023. Of these enrollees, there were 5,941 or 54.33% women from the total population of students starting a degree. A great portion of the first-generation students starting a degree is also skewed toward the tail of female students, that is, 2,021 or 80.33% of the combined male and female students within this indicator. It can be inferred from these data that ISU lives up to the expectations of society to be a provider of equal educational opportunities for all.
Along with these significant figures are alternative routes to make education more accessible, especially to the socio-economically challenged, and eventually qualify them for employment. In 2022, a total of 399 individuals were assessed, and 362 were certified for Horticulture NC II, Agricultural Crops Production NC I, NC II, and NC III; 188 and 171, respectively, were females.
Moreover, enrolled students at ISU who participate in either co-curricular or extracurricular undertakings receive scholarship opportunities and incentives. Recipients of such in the recent year were female-dominated with 223 out of 368. This university-wide practice does not only show recognition for students' active involvement but also ISU's multi-directional and holistic orientation to education. This is an important indicator of students' graduation rate, which is dominated by females.
ISU is true to its role as a fair and inclusive institution, as it observes gender-responsive admission of employees by posting job opportunities in the public domain, hiring applicants from marginalized sectors, and promoting the use of non-discriminatory and offensive language. National policies like RA 8187 and RA 11210 are also integrated into the institution's operation. This mechanism toward gender inclusivity is also manifested in the non-discrimination policies of ISU for the members of the LGBTQIA+ community as indicated in the ISU Student Manual.
The ISU workforce is a community of diverse public servants. Its senior academic staff comprises 1,169 employees, 595 of whom are females and 574 are males. Out of the 55 full-fledged professors at the university, 33 are females and 22 are males. In terms of academic staff with designees, 149 are females and 145 are males. These figures are indicative of the institution's efforts to diversify the workplace.
The general welfare of ISU's stakeholders is not limited to professional and educational aspects, as it is also manifested in several activities such as the observance of the 18-day campaign to end VAWC, mentoring and peer support mechanisms, and seminars that inform them of the importance of health education.
FREE Health Education for Sexually Transmitted Disease, Infection

Sexual and reproductive healthcare services, along with information and education, play a vital role in the lives of students. They empower individuals to make informed decisions about their sexual health, fostering responsible behavior and preventing unintended pregnancies and sexually transmitted infections.

These services also promote gender equality, ensuring that students have equal access to healthcare, regardless of their gender or sexual orientation. Moreover, comprehensive sexual and reproductive education equips students with essential life skills, nurturing healthy relationships and communication.

Bachelor of Science in Nursing program organized a health education event on June 23, 2022, with a crucial focus on addressing sexually transmitted infections (STIs). This initiative served as a vital platform for raising awareness among students about the implications of STIs on their lives and the broader community.

By shedding light on the physical, emotional, and social consequences of STIs, it aimed to reduce the stigma, fear, and discrimination often associated with these infections. This is a significant step toward creating a more compassionate and understanding environment for individuals affected by STIs.

In addition, the event offered valuable insights on how to prevent the acquisition of STIs, emphasizing the importance of safe sexual practices, regular testing, and the availability of effective treatment options. It equips students with the knowledge and skills necessary to protect themselves and their partners, promoting responsible sexual behavior and overall well-being.

In essence, this health education initiative extends beyond academic learning, playing a pivotal role in safeguarding the health and dignity of the student community and contributing to the broader public health effort to combat STIs.
ISU also extends its assistance to marginal farmers, landless individuals, and women's organizations to assist them in establishing viable livelihoods. Extentionists provide technical assistance to target beneficiaries to equip them with the necessary knowledge and skills before the commercialization of their products. Mungbean processing, for example, engages participants in a series of trainings on how to make pandesal, ice cream, wine, coffee, bibingka, and muffin using mungbean as the primary ingredient. This does not only financially enrich the community but also promote local and more affordable alternatives to costly commercial ingredients.
ISU continues pact with local government unit (LGU) of San Mateo on agriculture extension programs

Isabela State University has re-affirmed partnership with local government unit (LGU) of San Mateo on series of agriculture extension programs after sealing three (3) agreement memoranda on October 10, 2022.

Areas of collaboration include: Utilization of Techno-Demo Farm for Diploma in Agriculture Technology-Bachelor of Agricultural Technology (DAT-BAT) students; transfer of Farmers' Database Information System (FDIS); and several other extension projects.

The techno-demo farm will allow students enrolled in the DAT-BAT program to make use of the 1.7 hectares land owned by the LGU as training experimentation and research site.

Their trainings will be assisted by national agencies operating in the municipality, such as the Agricultural Training Institute- Regional Training Center 02 (ATI-RTC 02), Bureau of Plant and Industry- National Seed Quality Control and Services, Philippine Rice Research Institute (PRRI), and Bureau of Fisheries and Aquatic Resources.

Meanwhile, the University also transferred its newly developed FDIS thru the IT specialists from ISU-San Mateo Campus. The system aims to consolidate information management of farmers, fisherfolks and other farmer cooperatives and associations in the said locality.

It would also eliminate problems on the duplication of records, as well as automated reporting of the subsidies granted to local farmers.

The University will likewise continue its efforts in empowering sectors in the said municipality thru extension programs of ISU San Mateo Campus.

Among these are lectures on the updates of Government Procurement Act, along with other LGU strengthening programs; training for livelihood enterprise development of "Eco-bag: Negosyong Swak na Swak"; Community Attitude and Values Enhancement (CAVE); Gender and Development (GAD); Rag Weaving and Sewing; Mushroom Production (Oyster), and others.

LGU San Mateo Mayor Gregorio A. Pua expressed his gratitude to the efforts and initiatives of ISU toward the advancement of local-based livelihood enterprise and of human resource.
All of these initiatives speak volumes about ISU's shared responsibility to actualize gender equality.
ISU Partners with Army to Mainstream Gender Initiatives

Isabela State University and 502nd Infantry Brigade on April 27, 2022 signed a memorandum of agreement on mainstreaming gender-based initiatives as solutions to curb violence against women and children in Cagayan Valley.

The initiative is part of the Gender Resource Research Development Center project funded by the Department of Science and Technology titled "Gender Based Violence in Region 02".

ISU will be providing academic resources and technical support services in the field of gender and development.

Atty. Romano P. Cammayo, VP for Admin and Finance Services of ISU, highlights the role of the government institutions to assure a healthy working environment especially for women. This is in recognition of the role of women in the society.

In his message, Dr. Ricmar P. Aquino, University President, expressed enthusiasm on how this partnership and cooperation can aid in efforts to achieve gender equality. "Women must be empowered, not just by having equal opportunities at work, but also by assuring safer workplace", said Dr. Aquino.

On the part of the 502nd Infantry Brigade of the Philippine Army, Brigadier General Danilo A. Benavides, PA believes that the partnership on GAD initiative will enable the military to lever their competency in managing people's organization, especially on communities under their Areas of Responsibility (AoR).

"We want to uplift the wellbeing of the communities to lessen infiltration of communist insurgency. Kaya nagpapasalamat kami that you took us as partners. This serves as platform to attain other sustainable development tools", said BGen Benavidez. With these, the initiative is said to enable local efforts responsive to Sustainable Development Goals 1 (No Poverty) and 16 (Peace, Justice, and Strong Institutions), in addition to SDG 5 (Gender Equality) and 17 (Partnerships). ISU has recently been identified to lead the region in GAD initiatives as the Regional Development Council through Resolution no. 02-11 s. 2022 approves the creation of Regional Gender and Development Research and Learning Center to be housed at ISU-Echague Main Campus.