2022 – Reports | SDG 16 – Peace, Justice and Strong Institutions

University Governance Measure
Elected Representation
The Board of Regents stands as the paramount governing body entrusted with the critical responsibility of shaping policy at the University. With a steadfast commitment to nurturing an environment of all-encompassing university governance, ISU has embarked on an ambitious journey of transformation aimed at cultivating a profound sense of inclusivity and collaborative decision-making among its multifaceted academic and administrative staff, students, and stakeholders. At its core, this dedicated board comprises an influential assembly of individuals, united in their pursuit of a shared vision for the University's future. The board is steered by the able leadership of the CHED Commissioner, who serves as the Chairperson, with the University President serving as the Vice Chairperson. Additionally, the board boasts an esteemed cadre of nine members, each holding a unique and vital perspective:
Chair, Committee in Higher, Technical & Vocational Education
Chair, Committee in Higher, Technical Education
Regional Director, DOST Region 02
Regional Director, NEDA Region 02
Regional Executive Director, DA RFU Region 02
President, ISU Alumni Federation
President, ISU Supreme Student Council Federation
President, Faculty Federation
Collectively, these individuals assume a paramount role in shaping the University's policies and governance. Their combined wisdom, perspectives, and experiences coalesce to ensure a holistic and inclusive approach that resonates with the entirety of the ISU community, further reinforcing the institution's commitment to excellence and equity in its decision-making processes.
Link: https://isu.edu.ph/the-board-of-regents/
Student's Union
Isabela State University (ISU) is committed to an inclusive governance model that places accredited student organizations and unions at the center of its structure. This commitment is not merely symbolic but actively involves and values the different interest groups of students. ISU recognizes the unique contributions that these organizations make to the University community, understanding that they are not passive recipients of education but active contributors to the institution's development.
To facilitate this inclusive governance, ISU established the Office of Student Affairs and Services (OSAS), which streamlined the accreditation process, making it transparent and accessible. Accredited student organizations and unions are seamlessly integrated into the University's decision-making processes, with representation in various committees, including the ISU Board of Regents.
This approach has created a welcoming and vibrant campus community, empowering students to take an active role in their academic pursuits and shaping the University's present and future through their contributions to events, campus culture, and student services. ISU's commitment to recognizing and actively involving student organizations and unions has had a profound impact. These groups have become instrumental in advocating for student needs and advancing various areas, such as student services and campus amenities. Today, Isabela State University stands as an exemplary model of inclusive governance, where the voices of recognized student organizations and unions are regarded as essential to the institution's success. This dedication to participation and inclusivity promises to shape the University's future as ISU remains committed to the holistic development of its students. ISU's governance model places accredited student organizations and unions at the core, involving them in decision-making processes, thereby creating a vibrant campus community where student voices are valued and regarded as essential to the institution's success.
Participatory Bodies for Stakeholder Engagement
Isabela State University's Institute of Public Administration and Governance (IPAG) and the Regional Public Administration and Governance Research Center (RPAGRC) have joined forces with the Department of the Interior and Local Government (DILG) to empower Non-Governmental Organizations (NGOs) in local public finance.
This collaboration aligns with constitutional mandates and statutes encouraging government engagement with Civil Society Organizations (CSOs) and aims to strengthen good governance by fostering partnerships between the government and civil society.
The project, which focuses on two municipalities, recognizes the valuable role of CSOs in delivering services, enhancing transparency, and reducing corruption, while also addressing challenges such as legal protection, authorization, and procurement skills. This collaborative initiative underscores Isabela State University's commitment to research-based extension activities and the sustained partnership between CSOs, Local Government Units (LGUs), and the University. It reflects a proactive approach to building a more transparent, efficient, and accountable governance system, benefiting the local communities within the University's purview.
University Principles on Corruption and Bribery
This solemn declaration aligns with the bedrock belief that a public office is a sacred trust, rooted in the State's avowed policy that public servants are beholden to the people. They must carry out their duties with the highest standards of responsibility, competence, loyalty, patriotism, and justice. They must lead lives of humility, placing the interests of the public above personal gains. With an unequivocal stance against any form of graft and corruption, Isabela State University leaves no room for ambiguity. The directive is clear, and all personnel are mandated to uphold the following with unwavering commitment:
Republic Act (RA) No. 3019, the Anti-Graft and Corrupt Practices Act, and its accompanying Implementing Rules and Regulations (IRR).
RA No. 11032, the Ease of Doing Business and Efficient Government Service Delivery Act of 2018, and its IRR.
RA No. 6713, the Code of Conduct and Ethical Standards for Public Officials and Employees.
Section 65 of RA 9184, the Government Procurement Reform Act.
In addition, all other relevant laws, rules, and regulations imposing penalties on public officials who engage in corruption and bribery, including Articles 210 to 212 of the Revised Penal Code of the Philippines are also applied.
For the community of Isabela State University, this commitment is not merely a directive; it is a pledge. Every member of the ISU community is expected to embody the core values of the University. To ensure compliance, all members of the ISU Community are constantly reminded through memoranda and seminars. Also, copies of the aforementioned laws are readily available for reference, emphasizing that compliance is not an option but a steadfast obligation.
In this institution, the battle against graft and corruption is not a mere policy; it is a way of life.
Academic Freedom Policy
The Isabela State University Faculty Manual of 2016, through its revision and publication, unequivocally places paramount importance on the foundational concept of academic freedom. It stands as a resounding affirmation that within the University, academic freedom is not just respected; it is revered and celebrated.
The manual staunchly advocates for faculty members' rights to engage in open, unrestricted exploration of ideas, fostering an environment where intellectual curiosity and creativity thrive without hindrance. This unwavering dedication to academic freedom resonates deeply with the policies set forth in the press statements and publications, which dictate the responsible dissemination of information within the university.
In alignment with this profound principle, the manual further aligns with the belief that any statement or publication pertaining to University matters should be conducted in a manner that fully respects and safeguards academic freedom. It underscores the importance of proper authorization and responsible communication, as specified by the Board of Regents, to ensure that the free exchange of ideas remains unimpeded.
Additionally, the manual actively encourages the publication of scientific and scholarly articles, affirming the value of academic freedom in pursuing knowledge and innovation. This endorsement echoes the overarching theme that faculty members bear direct responsibility for their work, emphasizing that academic freedom is a sacred right and privilege held by each individual.
In essence, the Isabela State University Faculty Manual is not merely a document but a profound commitment to safeguarding and promoting academic freedom. It aligns seamlessly with the University's dedication to fostering an environment where academic freedom is celebrated, ideas are explored without constraints, and scholarship thrives, ultimately reinforcing the core values of the institution in upholding this essential principle.
Published Financial Data
ISU's unfaltering dedication to the ideals of transparent financial reporting sets an excellent example for other educational institutions. It goes beyond fulfilling mere regulatory requirements, becoming a testament to ISU's resolute commitment to the responsible management of its financial resources. By offering a granular account of how research funds are deployed, how the General Appropriations Act (GAA) budget is judiciously allocated, and how internal revenue sources are harnessed, ISU demonstrates that it not only adheres to compliance but also goes above and beyond its endeavor to maintain sound fiscal practices. The annual release of this financial data published on the Official ISU website symbolizes ISU's continuous endeavors to uphold the loftiest standards of integrity, accountability, and transparency in every facet of its operations. This concerted effort translates into tangible benefits for the entire ISU community and extends its positive impact to the broader public. ISU, through its untiring commitment to transparency and accountability, provides an exemplary model for others to emulate, cementing its position as an institution that not only imparts knowledge but also exemplifies best practices in financial management and stewardship.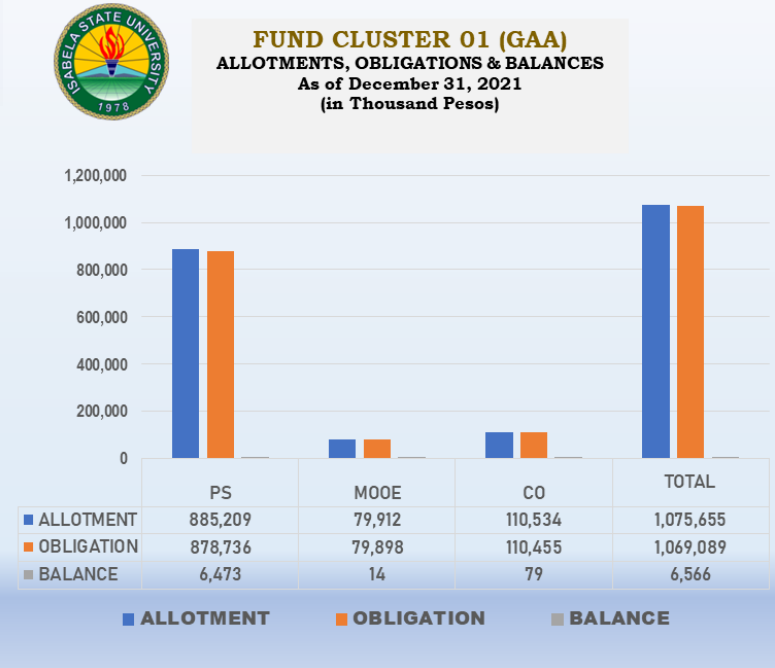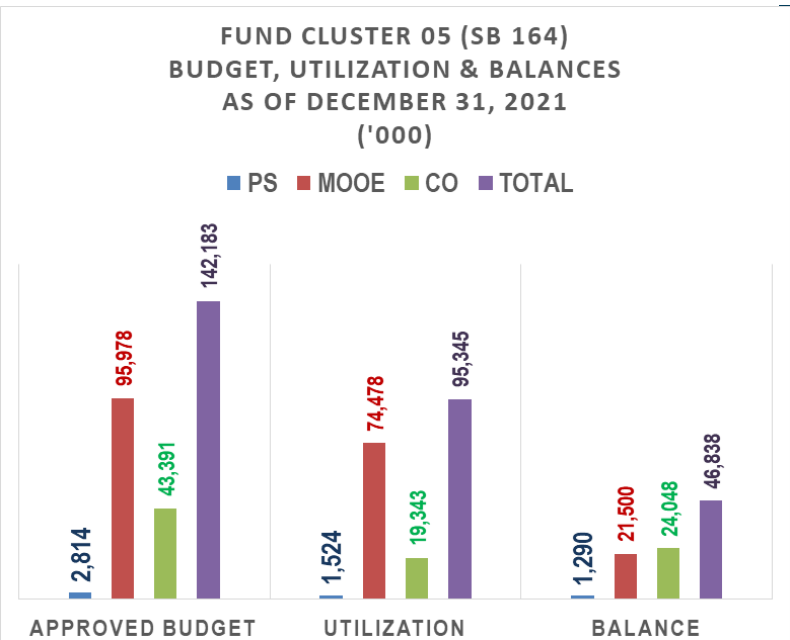 Link: https://isu.edu.ph/annual-report/ File Name: Isabela State University Annual Report 2021, pg. 39 & 40
Working with Government
Provide Expert Advice to Government
The ISU Business Intelligence Research & Development Center (BIRD-C) stands as a beacon of data-driven innovation, undertaking the meticulous analysis of data and the development of cutting-edge applications that empower Local Government Units (LGUs) to respond confidently and effectively to crises, fostering a proactive approach that transcends traditional governance.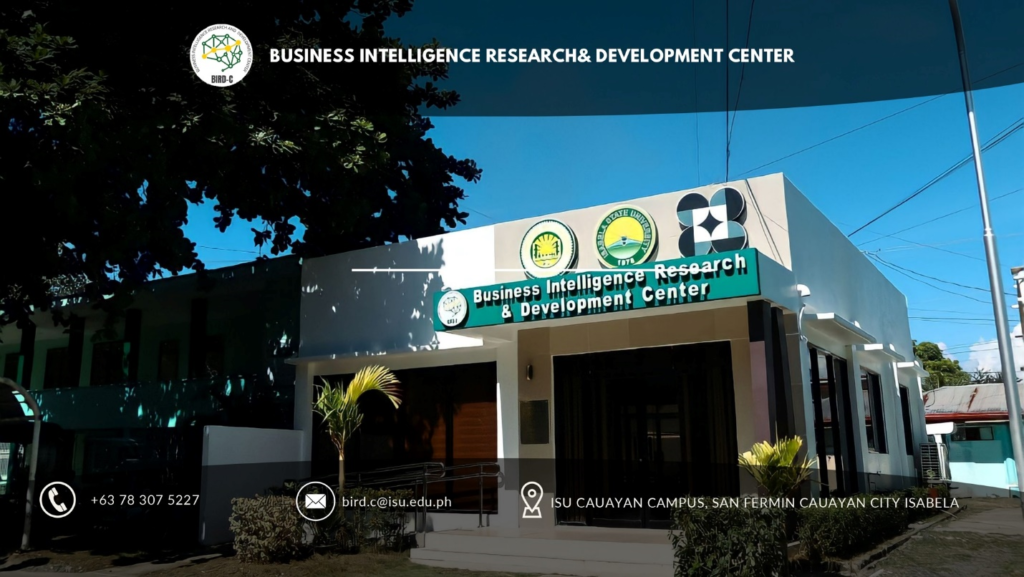 The ultimate vision is to empower LGUs to proactively seek solutions and innovations that enhance the well-being of their constituents through the profound insights gleaned from data analytics. One remarkable achievement borne from the Center's endeavors is the creation of the HealthGuard application, a robust tool dedicated to contact tracing and border control. This application has been seamlessly integrated into the provinces of Isabela and Quirino, effectively safeguarding the health, safety, and overall welfare of the populace and all travelers within or through these regions.
Furthermore, BIRD-C's collaborative projects, notably with the Provincial Government of Isabela, have harnessed information and communication technology to revolutionize data collection, engineering, analysis, and reporting. This, in turn, has given rise to a data-driven business decision support system managed and led by the Center, significantly elevating the operational efficiency of targeted agencies and public offices.
Link: https://isu.edu.ph/business-intelligence-and-research-and-development-center-bird-c/
Policy and Lawmakers Outreach and Education
The Isabela State University College of Law, driven by its visionary Clinical Legal Education Program (CLEP), has embarked on a journey of innovation and service by pioneering a range of legal outreach initiatives.
These programs were meticulously designed to address the pressing needs and requirements of the local community, while also fostering a symbiotic relationship between legal principles, community leaders, and dedicated law student practitioners.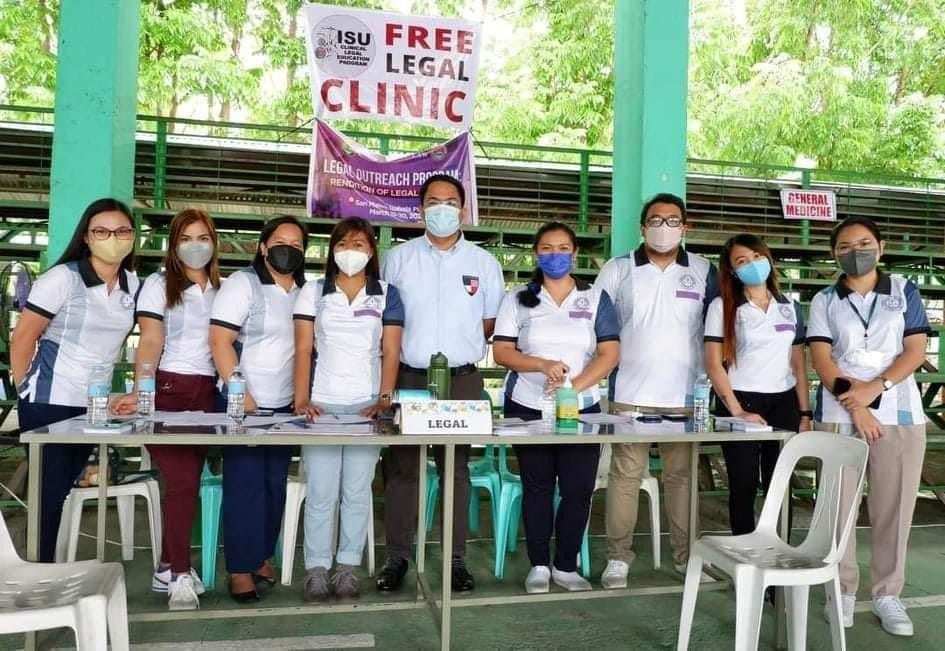 The CLEP's legal outreach initiatives are instrumental in empowering local communities, particularly those who are economically disadvantaged and marginalized. The program strives to make justice more accessible, upholding core principles of social justice, the rule of law, and humanity. Legal outreach efforts include disseminating legal information and providing free legal advice to local communities to raise awareness about their rights and the legal remedies available in case of violations.
These efforts are conducted in the vernacular to ensure comprehension. Additionally, law student practitioners engage in drafting legal documents, submitting pleadings, and representing indigent clients in judicial and quasi-judicial proceedings, filling a critical gap for individuals who cannot be represented by the Public Attorney's Office or the Integrated Bar of the Philippines due to conflicts of interest or manpower. Accredited law student practitioners are also authorized to conduct mediation and conciliation proceedings, striving to foster amicable settlements and reduce the burden of lengthy, stressful, and costly legal procedures. These activities are executed under the guidance of a supervising lawyer, ensuring the program's compliance with legal standards while furthering the cause of accessible justice for all.
Participation in Government Research
Isabela State University (ISU) is actively involved in a significant government research project led by the Department of Agriculture Region 02 which is focused on enhancing the Registry System for Basic Sectors in Agriculture (RSBSA) through the creation of the Farmer and Fisherfolk Registry System (FFRS).
RSBSA serves as a vital digital repository, containing essential personal data and agricultural activities of farmers, farm laborers, fisherfolk, and agricultural youth, guiding government programs, including financial aid and insurance services for agriculture.
This collaborative effort involves various government agencies, and the Department of Agriculture (DA) leads the program execution. After a year of continuous registration of agricultural laborers, the Department aims to improve data accuracy and quality through an evaluation. ISU's active participation in this project underscores its commitment to support government initiatives in agriculture, benefiting farmers, farm workers, fisherfolk, and agricultural youth, and enhancing rural community development and agriculture sector sustainability.
Neutral Platform to Discuss Issues
The Office of Student Affairs and Services (OSAS) at ISU organized a symposium with the theme "Cultivating a Safe and Inclusive ISUan Community" on November 25, 2022. The event aimed to promote the well-being of ISU students and provide a safer, more welcoming environment for all. The symposium featured four informative sessions.
Dr. Lilibeth L. Sanchez, RPsy, Head of Guidance & Counseling, highlighted the importance of mental well-being and the symposium's role in addressing various aspects of students' academic and personal lives.
The sessions included discussions on crucial topics: Associate Provincial Prosecutor Atty. Eve Jona Paula Garcia discussed the Anti-Sexual Harassment Act (Republic Act 7877) to create awareness of acceptable and appropriate behavior; Tomasa T. Lania, RPm, ISU Echague Guidance Counselor, lectured on the Safe Spaces Act, providing insights into creating safe environments; Faith F. Ramil, RGC, Guidance Counselor at ISU Cauayan, focused on combating bullying and the importance of prevention; and PNP Echague Police Major Rogelio Natividad provided a comprehensive overview of the Drug Prevention Act, emphasizing the importance of student involvement in drug prevention.
The symposium highlighted the open forum, where students could address their concerns and issues, with support from the Office of the Supreme Student Council (SSC) and OSAS.
University Director Engr. Edmundo Obiña assured students of a safe and secure community, emphasizing that when students feel safe, they can better pursue their life goals and development.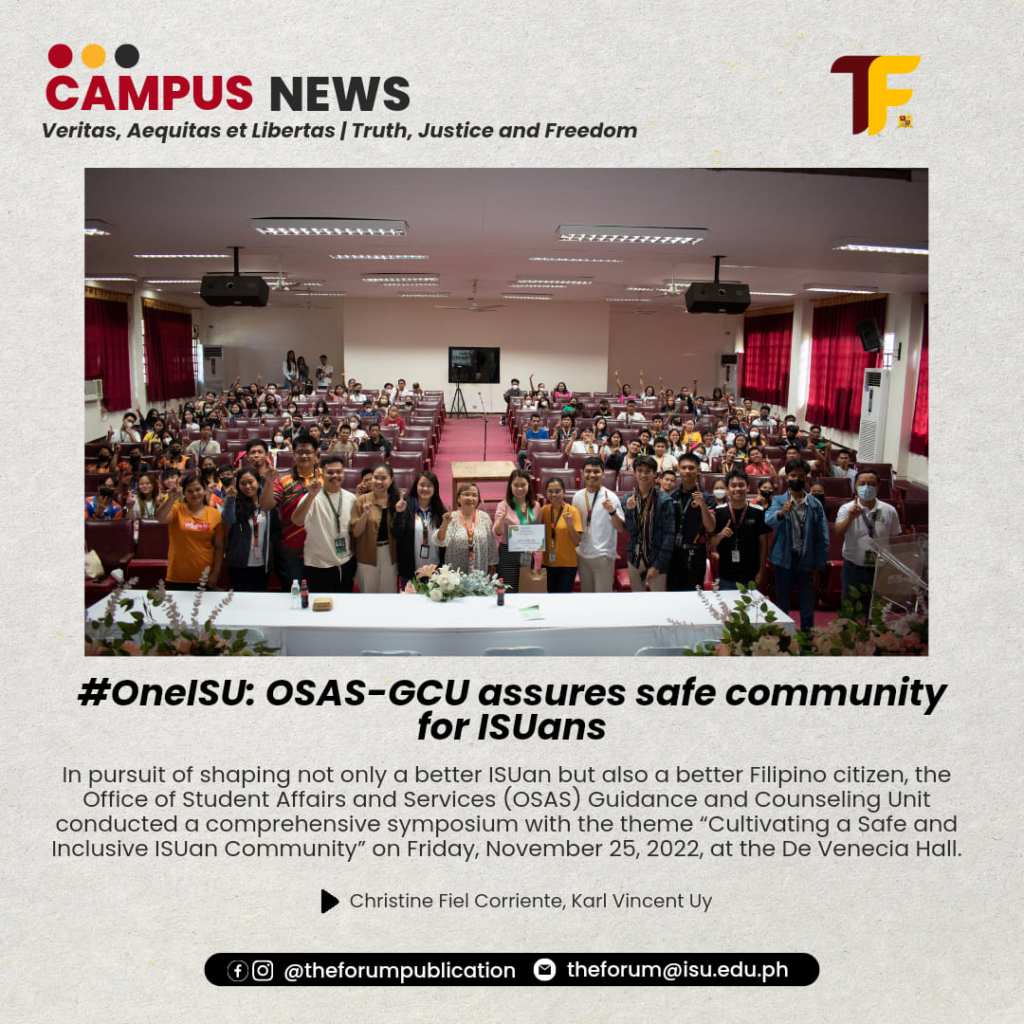 Lania encouraged ISUans to stand up against inappropriate actions, support one another in times of trouble, and report gender-based violence and sexual harassment incidents. She highlighted the need for witnesses to be courageous and assist victims in seeking justice.
In summary, the symposium at ISU underscores the commitment to fostering a safe and inclusive community, promoting well-being, addressing important issues, and empowering students to create a safer environment for all.
Proportion of Graduates in Law and Civil Enforcement
Number of Graduates
A total of 6,801 students marked a significant educational milestone by successfully graduating in the academic year 2021-2022, spanning three academic terms: the first semester, second semester, and midyear. This achievement is a testament to their hard work and commitment to pursuing higher education.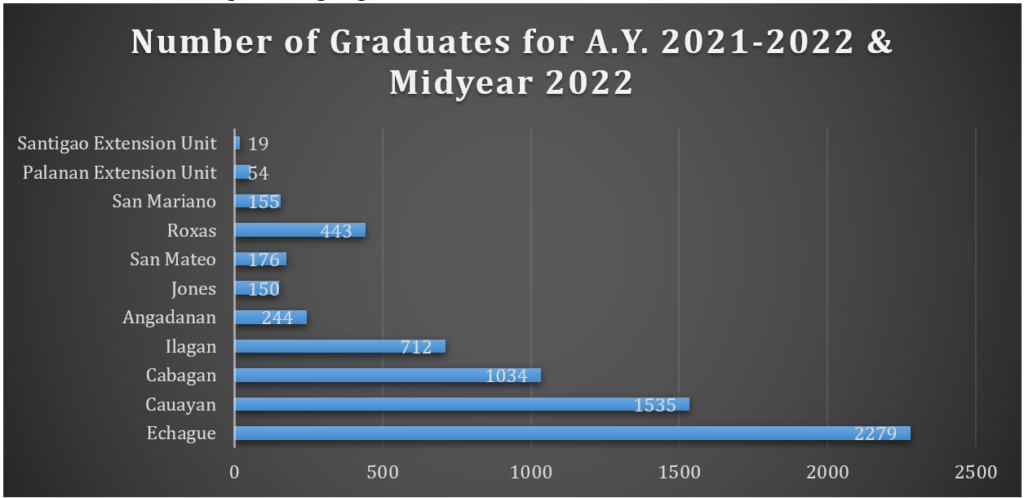 Across Isabela State University's 11 distinct campuses, a rich tapestry of graduates emerged, each contributing to the academic legacy of the institution. The Echague Campus stands out as a beacon of academic excellence, proudly conferring degrees to 2,279 individuals. This achievement is a testament to the dedication and perseverance of the students and the guidance and support provided by the University.
Closely following Echague, the Cauayan Campus celebrated the success of 1,535 graduates. These students have demonstrated their resilience and determination in completing their academic journey. The Cabagan Campus contributed significantly to the total count with 1,034 graduates adding to the University's academic legacy.
The Ilagan Campus made a noteworthy impact with 715 graduates, showcasing the University's commitment to providing quality education across diverse locations. These graduates will go on to make valuable contributions to their communities and beyond.
The Roxas Campus, with its 443 graduates, added another layer of successful graduates. The Angadanan Campus, with 244 graduates, and the San Mateo Campus, with 176, both highlight the University's strategic locations giving it the ability to reach and educate students in far places.
Similarly, the San Mariano Campus and Jones Campus each recognized 155 and 150 graduates, respectively, indicating the widespread reach of Isabela State University's educational initiatives.
The Palanan Extension Unit and Santiago Extension Unit have shown their dedication to education by graduating 54 and 19 students, respectively. These smaller units within the University play a crucial role in providing access to education in more remote areas.
Collectively, these 6,801 graduates represent the culmination of years of hard work, determination, and dedication. They are now equipped with the knowledge and skills to make positive contributions to their communities and society at large. Isabela State University's commitment to higher education and community development is exemplified through the success of these graduates, each of whom will play a part in shaping a brighter future.
Number of Total Graduates from Law and Enforcement Related Courses
In the heart of Isabela, Philippines, Isabela State University (ISU) stands as a pathway to a brighter future, offering programs in Criminology, Law Enforcement Administration, Legal Management, and Juris Doctor. These various programs provide students with interdisciplinary learning and equip graduates to make meaningful contributions to the fields of law, justice, and criminology. Graduates of these programs, such as Criminologists, Law Enforcement Administrators, Legal Management professionals, and Juris Doctors, play essential roles in crime prevention, law enforcement leadership, legal research, and advocating for justice.
ISU continues to produce a steady flow of skilled graduates, contributing to the development and resilience of the legal and justice sectors, reflecting the unwavering commitment of both students and faculty. ISU's various campuses, including Angadanan, Cabagan, Cauayan, Echague-Main, Jones, and Roxas, collectively contribute to the academic landscape.
With a remarkable total of 789 graduates in the academic programs of Criminology, Law Enforcement Administration, Legal Management, and Juris Doctor, ISU has consistently demonstrated excellence in delivering future servants of peace, justice, and strong institutions. These graduates carry the necessary skill set and a deep understanding of their respective fields, each poised to excel in their chosen fields and positively impact their communities and the world.